If you're looking for easy ways to save cash for your next bucket-list destination, this is the place. Check out the quick list below for 5 easy ways to save money to travel.
Disclaimer: This post contains affiliate links. If you book or buy something through these links, I earn a small commission (at no extra cost to you).
1. Join a Gas Saver Rewards Program + Gas Buddy
Inflation got you down? Have no fear, here's a little bit of relief. This is the easiest way to save money on fuel at a Shell station.
Go to www.fuelrewards.com/ and sign up for their program. It takes under two minutes. In doing so, you will save at least .05 cents per gallon of gas each time you fill up at Shell gas station. The more times you fill up, the more you save and your eligibility grows for future Shell rewards.
Example: Avg fill up equals $65. $65 x .05 = $3.25 SAVINGS
In the example above you will notice a $3.25 savings every time you fill up. Your cost may differ depending on number of fill-ups, vehicle make, model, engine, driving conditions, etc.
Gas Buddy App
Download the Gas Buddy App. Not only does it help drivers shop around with its up-to-date, member-reported gas prices, but GasBuddy will run "deals" where you can save a set rate on gas.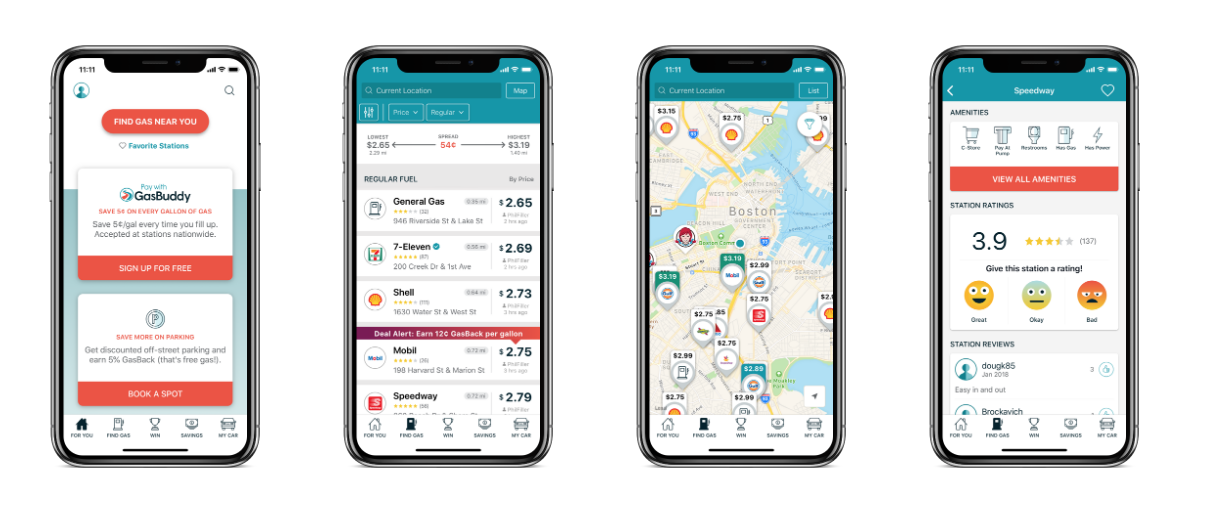 Before visiting the pump, download the free app and use the filters at the top to sort the nearest gas station. Look for the best price, based on the distance you need to travel and weigh your options.
Oh, and in case you're wondering, this can also be combined with Fuel Rewards at Shell stations.
2. Don't spend it – Save it!
There, I said it, and I know it seems obvious but think about it.
Save as much money per paycheck as you can. Use the 80/20 rule when possible. That is, save 20% of your paycheck, every time.
This is most important tip I can give you and that is to, prioritize your savings.
Think about needs versus wants.
Don't spend the money you don't need to. Just because you say you won't spend money, doesn't actually mean you will not spend it.
Consistency is the most important aspect here.
Can't live without Game of Thrones on Netflix? Can't resist stopping at Starbucks? How about those new pair of Nikes? Change your priorities. J
ust because you have a credit card, doesn't mean you should spend more than you have. Pretend your credit card is cash, if you don't have the cash to buy it, don't. You will be surprised how much cutting back a little spending will add to your travel fund.
Buy: Save Spare Change In This Wooden Adventure Fund Bank
3. Eat & Drink Out Less
Another tip that may seem obvious and goes hand-in-hand with tip #2. Avoid eating out for lunch every day or dinner two and three times a week, as this can significantly reduce your weekly spend. The lower your weekly spend, the lower your monthly spend, the more money you save to travel!
Instead of eating out, try leftovers, meal-prepping at home, healthy pre-made lunches, lunch meat, soup and good ol' fashioned PB&J.
Try this for one month and your pocketbook will be a lot happier.
4. Use Rakuten When Shopping Online
Huh? What's Rakuten? Rakuten is a FREE cash back app and browser extension.
When you make a purchase, cash back is the money you receive back on the item you bought using Rakuten. Usually the amount is classified by a specific percentage.
Have you ever seen a sign or advertisement say "Receive 3% Cash Back Today!". That means, after your purchase is made, you will receive 3% cash back.
Example. You spend $120 on an overnight accomodation at Hotels.com and Rakuten is offering 3% back. This means, you would receive $3.60 cash back just for using Rakuten.
Pretty sweet, right?
After you've downloaded the Rakuten app or browser extension, Rakuten automatically tells you when you can get cash back when shopping online.
When you sign-up using my special friend introduction link below, you get $10 right off the bat.
Related: How to Use the Rakuten Cash Back App
5. Use a High Interest Rate Savings Account
Find and use a high interest savings account insured by the FDIC to start earning interest on your money you already have. Banks like Chase and Capital One usually have good interest rates on savings account.
The benefit of having a savings account over a CD is that you can pull your money out at anytime. That way, if you need it, it is there. The interest rate of a savings account may not be as high as a CD, but you have the flexibility and access to your money at all times.
Always check the fine details and terms before opening a new account.
Chase Sapphire Preferred
In combination with a high interest savings account, a travel credit card is a great way to save money on travel expenses. Provided you pay your monthly bill on time, a rewards card can significantly cut your costs on your next trip. I've flown to places like Hawaii, Spain and Costa Rica- all for free using miles!
The first travel credit card I use is the Chase Sapphire Preferred. If you apply for the card at the right time, you can earn up to 80,000 bonus miles. However, the spending is higher than most cards at $4,000 in the first three months to be eligible. Chase requires a $95 per year fee to hold the power of the Sapphire Preferred card and its benefits. If $4,000 seems like too much, how about using the card to pay for utility or re-occurring monthly bills? Other ideas include car maintenance/repair, birthday gifts or my favorite, Christmas spending spree's.
Capital One Venture Card
The second card I always have in my wallet is the Capital One Venture card. Believe it or not, this was my second travel rewards card (2016) I ever used and I'm still using it today! With Capital One + hotels.com, you can earn free hotel nights and 2x the miles for each hotel you book.
If you can't find a good use for your Capital One miles, feel free to transfer them to 13+ travel partners in the Capital One network. Talk about perks!
Maybe you already know how to save some cash. Drop them in the comments below to share!
---
Other Related Articles :